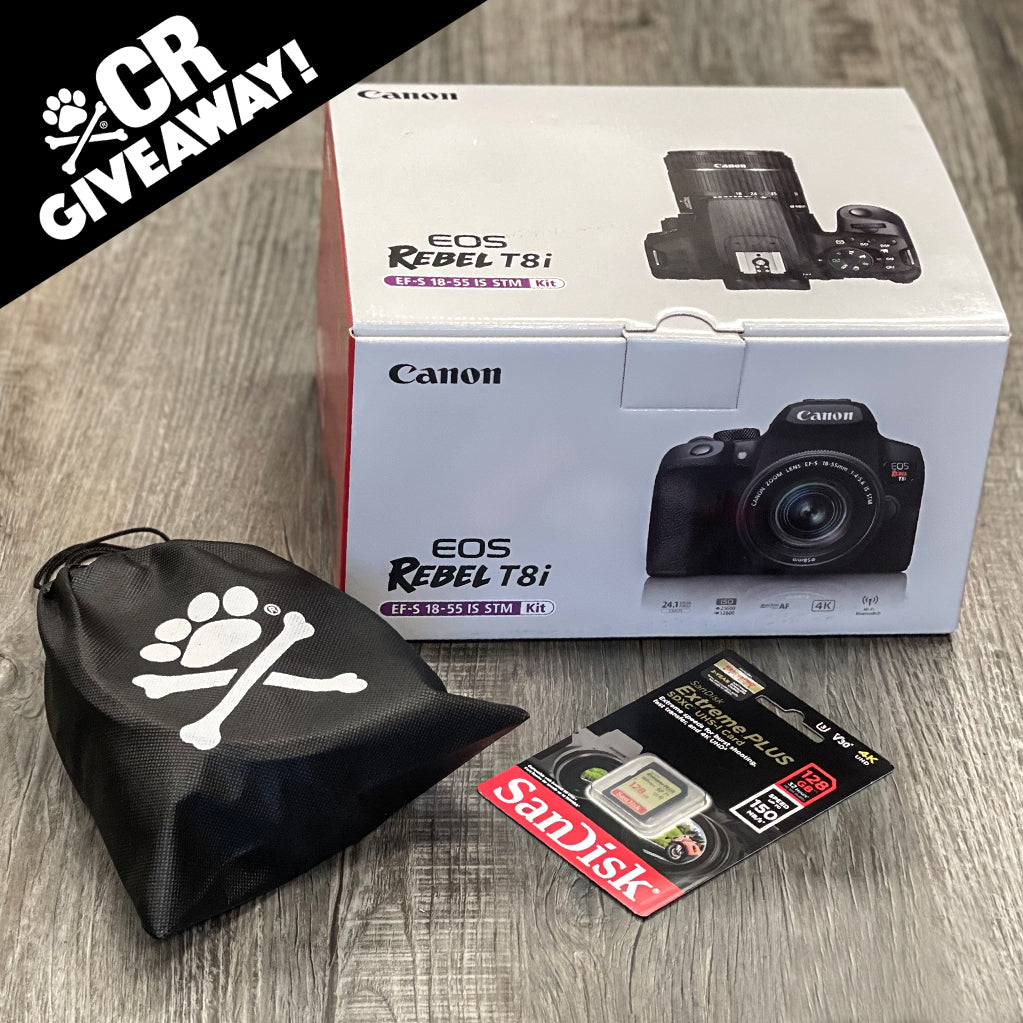 GIVEAWAY IS CLOSED! Thank you for entering.
CrazyRebels.com is turning TEN this year so to thank YOU, our amazing customers, we're giving away $10,000 worth of prizes all year long. MAY this giveaway be the biggest one yet! May is National Photography Month, so we're celebrating the art of photography with two big giveaways, one on Instagram and one on Facebook, read through below to find out how to enter. 
This giveaway is for our Instagram friends.
May's Instagram giveaway seeks to pay it forward to help inspire creativity. Our first camera at CR was the Canon Rebel (for obvious reasons, we chose the Rebel), but it proved to be an amazing workhorse (workhound?) and allowed us the ability to capture our collars and our dogs more in-depth and most of all more beautifully. The Canon Rebel went with us everywhere, it collected dust on hikes, sand at the beach, and many lens kisses courtesy of all our canine friends we've been lucky enough to photograph. This camera became a part of the CR fam that we loved dearly, and when it was time to upgrade, the physical camera has remained a relic at our headquarters reminding us of the earliest days of CR.
This camera changed the way we worked and has helped capture millions of memories and thousands of professional photos and we want to offer that opportunity to someone else too. No, you can't have our original Rebel. But we are giving away a brand new Canon Rebel T8i complete with a memory card so once you open the box, you're literally ready to shoot, AND of course a dream CR collar of your choice to kick off your collar capturing career. We know each and everyone of you has 10 zillion dog photos on your phone, so whether you aim to pursue a photography profession, want to start a small business, or just want to step up your dog photos, this giveaway you.
How to enter to win:
Follow us on Instagram @CrazyRebels
LIKE and COMMENT on every photo posted to CrazyRebels' Instagram for the month of May
Extra entries for sharing posts
What you win: ($1500+ value)
Canon Rebel T8i Camera Kit, complete with EF-S 18-55mm Lens in black
SD memory card, 128 GB
Dream CR collar of your choice. Choose the size, design, and colors. *Excludes the Rebel collar.
This giveaway is for our Facebook friends.
Our second giveaway for May seeks to honor your amazing photography skills. One of the greatest joys of making collars for your dogs, is actually seeing them on your dogs. We love the candid shots, the everyday shots, the creative shots, the carefully captured moments and everything in between. What we're trying to say is we love your photos of your dogs in CR. 
How to enter to win:
LIKE us on Facebook @CrazyRebels
LIKE and COMMENT on every photo posted to CrazyRebels' Facebook for the month of May
Extra entries for sharing posts
Follow the instructions on the first photo posted to Facebook in May --> In short, you will post a photo of your dog as your main entry. If you have a CR collar, post a photo of your dog in a CR collar. If you don't yet have a CR collar, post a photo of your dog nakey with no gear on. This is a photography contest so bring your A-game. Photo submission deadline is May 31, 2022, 11: 59 pm pst. On June 1st we'll choose our 4 favorite photos from all eligible entries (so don't forget to LIKE and COMMENT all month) and then YOU will vote for the winner by liking your favorite photo, the photo with the most likes at the end of 24 hours will take home the grand prize.
What you win:
$500 gift certificate to CrazyRebels.com. *Gift certificate must be redeemed at CrazyRebels.com and cannot be combined with any other offers.
Thank you for sharing your dogs with us!