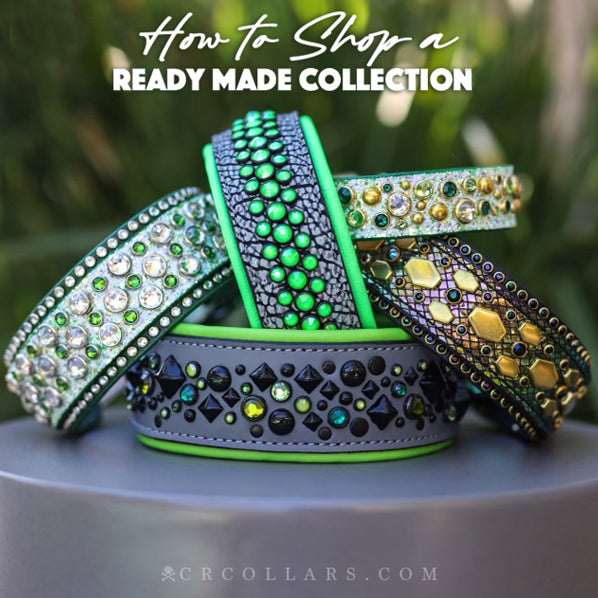 If you are new to the CR Pack, you may have wondered what these "Ready Made Collections" we refer to are all about. Even if you've been with us for a while but still have some questions, we put together a thorough guide to what a Ready Made Collection is and how to shop it.
What is a Ready Made Collection? Ready Made Collections (RMC, as they are often called) are small curated collections of already made collars that are ready to ship. There is no waiting for production, no customizations, just badass CR collars ready for you to enjoy right away. There is one of each collar available in a set size, design and colors. Once a collar is purchased, it will say "sold out".
This collection is password protected until the start time. At that time the password will disappear and all the collars will be available to purchase right here. If the collection is password protected it means the collection is currently sold out, or the collection has not gone live yet if it is right before the start time. You do not need a passcode to shop, it's not a mistake, it's just our way of releasing the collection at a certain time so everyone gets a fair chance to grab what they want.
Ready Made Collections are limited collections that feature anywhere from 4 to 30 collars. There is just one of each collar available and they are listed by size, if you see something you like we recommend adding it to your cart and checking out right away. Putting a collar in your cart does not reserve it, you must checkout completely to score a collar. Any collar we advertise on social media and our website before the drop and specify it will be in the collection, will be available. Sometimes we do lots of sneak peeks and sometimes we only do one or two.
When are Ready Made Collections? Our Ready Made Collections are offered almost every Friday at 6 pm pacific standard time. We sometimes change the time and occasionally offer additional ready made collections on different days. But we always state the time in pacific standard time (California time).
Some tips for shopping a Ready Made Collection: 
1. Make sure to shop right at the start time for the best selection. These collections tend to sell out in the first 1-10 minutes so refreshing the page a minute before right until it starts is a good idea.
2. Refresh your browser right before for faster website loading.
3. If you're paying with PayPal make sure you are logged into your PayPal account prior to, and make sure all your information is correct. 
4. If you have a Crazy Rebels account make sure you're logged in. If not you can make one on our website. 
5. If you want more than one collar, we recommend adding one at a time to your cart and checking out to guarantee you get your first choice, then go back for your second and check out again, etc.
What is a Mystery Collar? Mystery Collars add a little extra excitement to receiving CR mail. Mystery Collars are simply surprise collars. There is no picture of the collar, but we will list some elements like the size and possibly the name of the design. Sometimes we give you a hint as to the colors, hardware, crystals, etc. and sometimes we leave it a complete mystery. 
How long does it take for Ready Made Collars to ship? Typically we ship Ready Made collars in 7 - 10 business days unless otherwise specified. You can always find the shipping estimate on each collar page in a collection.
Since Ready Mades tend to go pretty fast, join our text message list to get alerts for Ready Made Collections. Text CRAZYREBELS to (951) 404-2726 to join.