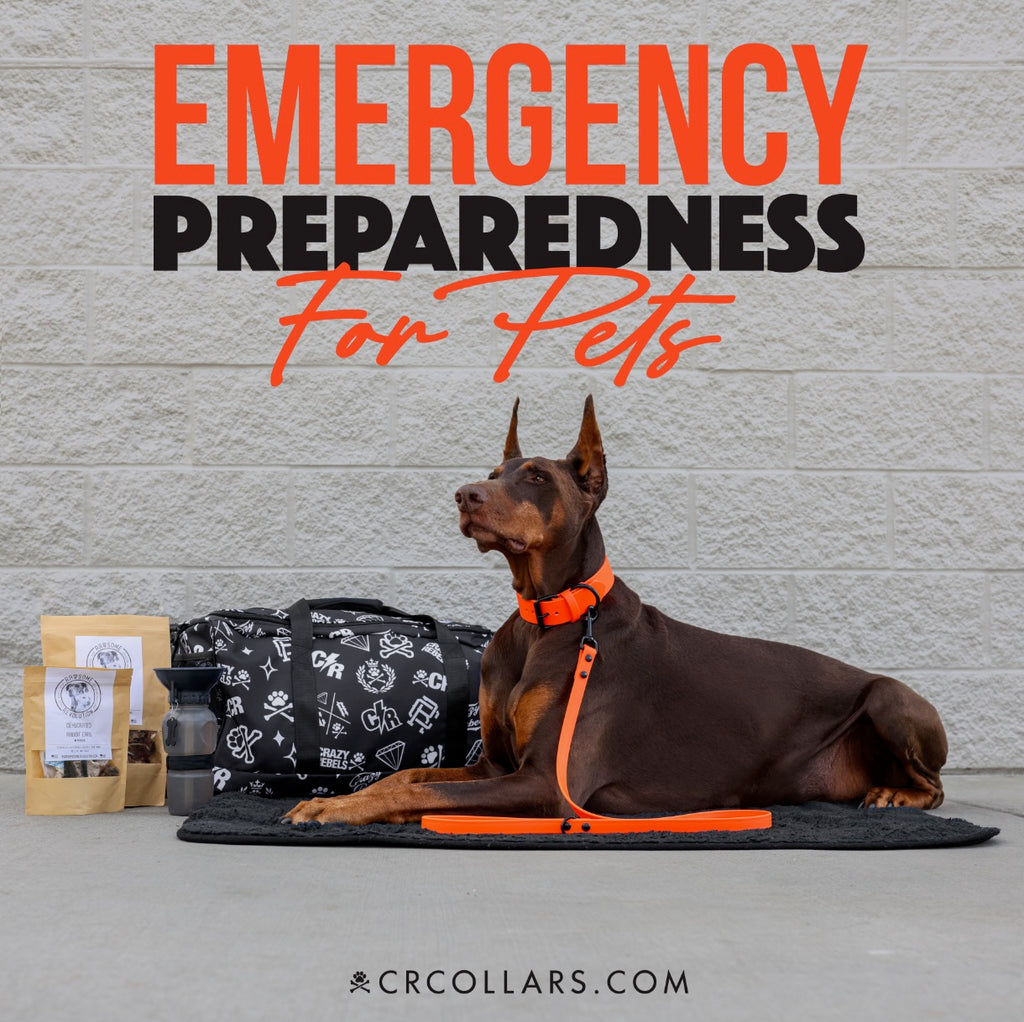 Over the past weekend our home state of California experienced a hurricane warning and an actual earthquake, so we thought it would be a good time to brush up on our preparedness for natural disasters and emergencies. We're giving away a CR go-bag stuffed with essentials, simply read (or skip) ;) to the end to find how to enter to win.
Living in California we grew up with earthquake drills and go-bags in our closets, so it only seems natural to create these go-bags for our pets as well. Here's a quick checklist to make sure you are ready next time disaster strikes. 
Have a plan. When time allows, you'll want to plan for different scenarios. Some questions to ask that will help create a plan: If you have to evacuate how will you transport all your pets? Where will you go? Do they allow pets? Do you have crates and muzzles in case you have to board them?

 

Pack an emergency go-bag.

 

Make sure your pets are ID'd. Check to ensure your pets are microchipped with up to date contact info. Have a collar with ID tags and a leash ready in the same spot at all times. We always keep pre-ID'd collar and leash sets for each of our pets in a go bag in our hall closet. Should we need to leave quickly we just grab the bag and go. We also have easily accessibly slip leads in case there's no time to put collars and leashes on. We can grab the bag and ID later.

 

Keep a "Pets inside" emergency info sheet on the front window of your house closest to your front door. Should something happen while you are not home emergency personnel will know how many pets to rescue with their names and info to contact you.
What to put in an emergency go-bag for pets:
A collar with ID and a leash.

 

A copy of important documents like up to date vaccinations, registration, any current prescriptions and a current picture of your pet in case you become separated, all in a waterproof container.
Food and water bowl.
Snacks, treats, food.
A comfy mat or bed.
A favorite toy or something comforting.
A pet first aid kit.
Poop bags.
You can use a backpack or a duffle bag, depending on how many pets you have and if you want a bag for each or one big bag for everyone.
CR GO-BAG GIVEAWAY ($400+ value)
What you win:
A Crazy Rebels duffle stuffed with all the essentials
-A matching Crazy Rebels Kyon collar and leash set in your choice of size, color and hardware.
-Dehydrated snacks, Owiesm & Oopsies Topical Spray , and Colloidal Silver from @rawsome_revolution
-Cozy mat
-Travel bowl
-Travel water bottle
-Toy
-Pet first aid kit
-Poop bags
-Waterproof/ fireproof document bag
How to enter:
Find us on Instagram and FOLLOW @crazyrebels, follow @rawsome_revolution
LIKE and COMMENT and/or TAG a friend on every post on @crazyrebels Instagram from Monday August 21, 2023 through Thursday August 31, 2023.