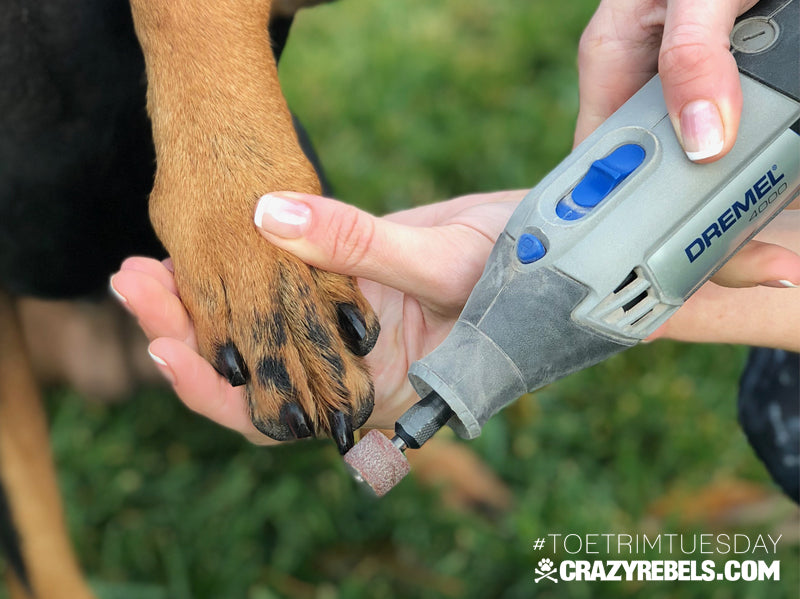 Contest closed! Congrats to the winner Marc Howard.
We're kicking off the new year on the right foot, quite literally. ;) Whether you have one or ten dogs in your pack, remembering weekly nail maintenance can feel overwhelming. So we're instituting Toe Trim Tuesday as a fun reminder to trim those toesies on a weekly basis. A while back we instituted this Tuesday ritual for our own pack as a way to keep ourselves accountable and make sure everyone's nails are always at a good length.  Our mission is to inspire a routine in your household so that nail care is never an issue again.
Why trim the nails?
Because the average house dog doesn't wear down their nails enough naturally, it is important that we do it for them. Long nails can cause many problems for dogs and can be very painful. Untrimmed nails are more likely to get caught and tear. Ouch!! Shorter nails are much more comfortable for your dog.
Nail Care options
Dremel
Pros: In our experience the safest and most effective way to trim a dogs nails is by filing them with a Dremel instead of clipping with clippers. You have more control and there is a much smaller risk of hitting the quick. 
Cons: This process is more time consuming and takes some investment in equipment.
Clippers
Pros: Clippers are quick and efficient and do not cost a lot. 
Cons: You can more easily cut the quick if you are not experienced.
Groomer
Pros: You don't have to deal with the actual maintenance and groomers are experienced and proficient at nail care. They generally offer both clipper and Dremel options.
Cons: This can get expensive if you are going every week, and then there is the inconvenience of taking your dog to the groomer more often.
Vet
Pros: If your dog is difficult to wrangle some people find a vet the best option for getting the nails down. You can rest assured your dog is in safe, competent hands.
Cons: This option isn't really feasible on a weekly basis and can be pretty costly, unless you are already at the vet for an appointment.
Toe Trim Tuesday Giveaway 
Because we love the Dremel so much, seriously we have at least four, we're giving away one brand new Dremel to make your weekly nail care regimen easy peasy. And of course it'll come with a matching classic Kyon collar and leash.
To enter: 
Like Crazy Rebels on Facebook
Post a picture of your dog(s) on our Facebook page with a New Years resolution you have for you and your dog(s), (i.e. camp at least twice with my dog, walk my dog once a day, teach my dog to drive, venture to the moon with my dog, etc. you get the idea) and hashtag #toetrimtuesday.
Giveaway ends January 31, 2018. Open worldwide.
Get Involved