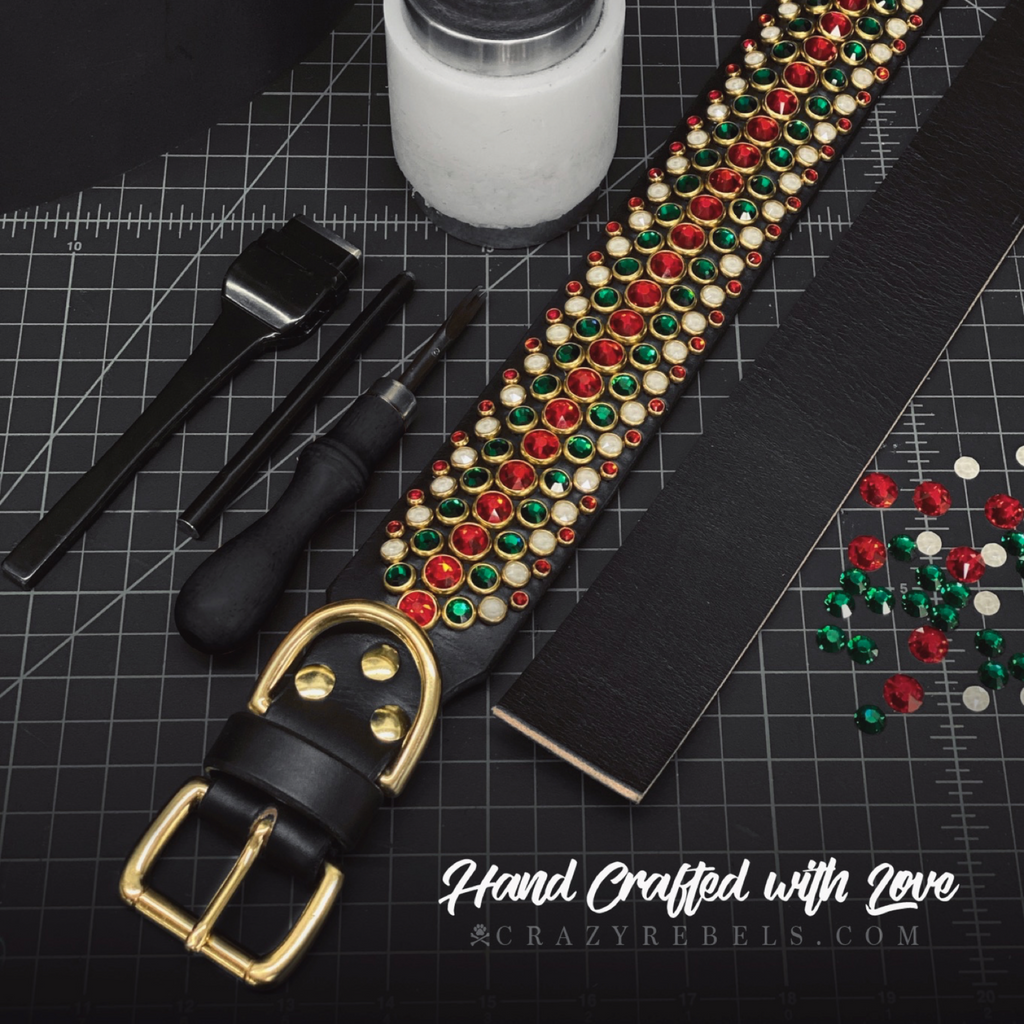 Here are some answers to questions you might have concerning how to order a super awesome, custom crafted collar from Crazy Rebels. We're here to make ordering leather collars as easy as possible, and answer all of your collar related questions. So ask away! 
 Why can't I order leather collars on your website?
 Our leather collars are all custom crafted, to order, by hand. Due to increased demand for our leather goods, (i.e. you guys order them faster than we can make them) our leather collars are currently only available to order through our waitlist. 
What is a waitlist and how does it work? 
Our waitlist is basically just a virtual line to order leather collars. You email us at woof@crazyrebels.com (subject line: WAITLIST) and we'll hold your place in line. Once your turn comes up, we will email you and work with you to place your custom order. You can order as many as you like once it's your turn. You'll have a set amount of time to place your order so be sure to email us back as soon as you hear from us.
How long is the waitlist?
At the moment our waitlist is about a year long. (We know, super long, and we're so sorry for the wait). We promise we are making collars as quickly as possible, and we do have a plan to be caught up fairly shortly.
Does it cost anything to join the waitlist?
You do not have to pay anything up front, joining the waitlist is completely free and you aren't obligated to place an order. Once your turn comes up you can simply pass if you don't want to order. Keep in mind you will need to get in line again should you decide you want to order in the future.
I'm on the waitlist, what's the status?
For everyone currently on the waitlist. We will be individually emailing you all over the next few weeks to give you a personalized update. But in the meantime, here is an overview of what you can expect.
We would like to apologize that when you join the waitlist we can't really give you an accurate wait time. We do our best to guess, but it's just that, a guess. We do not limit how many collars you can order when your turn comes up, which means the waitlist can really move at varying speeds. 

Our main goal, is that once your turn is up on the waitlist and you have placed your order, you will not have to wait very long to receive your collars. For this reason, for the time being the upfront wait time is going to be a little longer and we are sincerely appreciative of your patience.

Because of the extensiveness of the waitlist, we do not typically update you during your wait, but you are welcome to contact us at any time and ask where you are in line. 
Why is there a wait in the first place?
For the time being, we are a teeny, tiny company. We have one collar maker who hand crafts hundreds of collars every month. Yes this is a decision we have made, but it doesn't change the fact that he hand makes every. single. custom. collar. And you guys simply want collars faster than we can make them. We started Ready Made Sales to satiate the need for instant gratification and get you collars right away. We will continue to balance custom orders with Ready Mades until we are caught up on customs.  We thank you for your patience during our growing pains.
We love crafting collars for you.