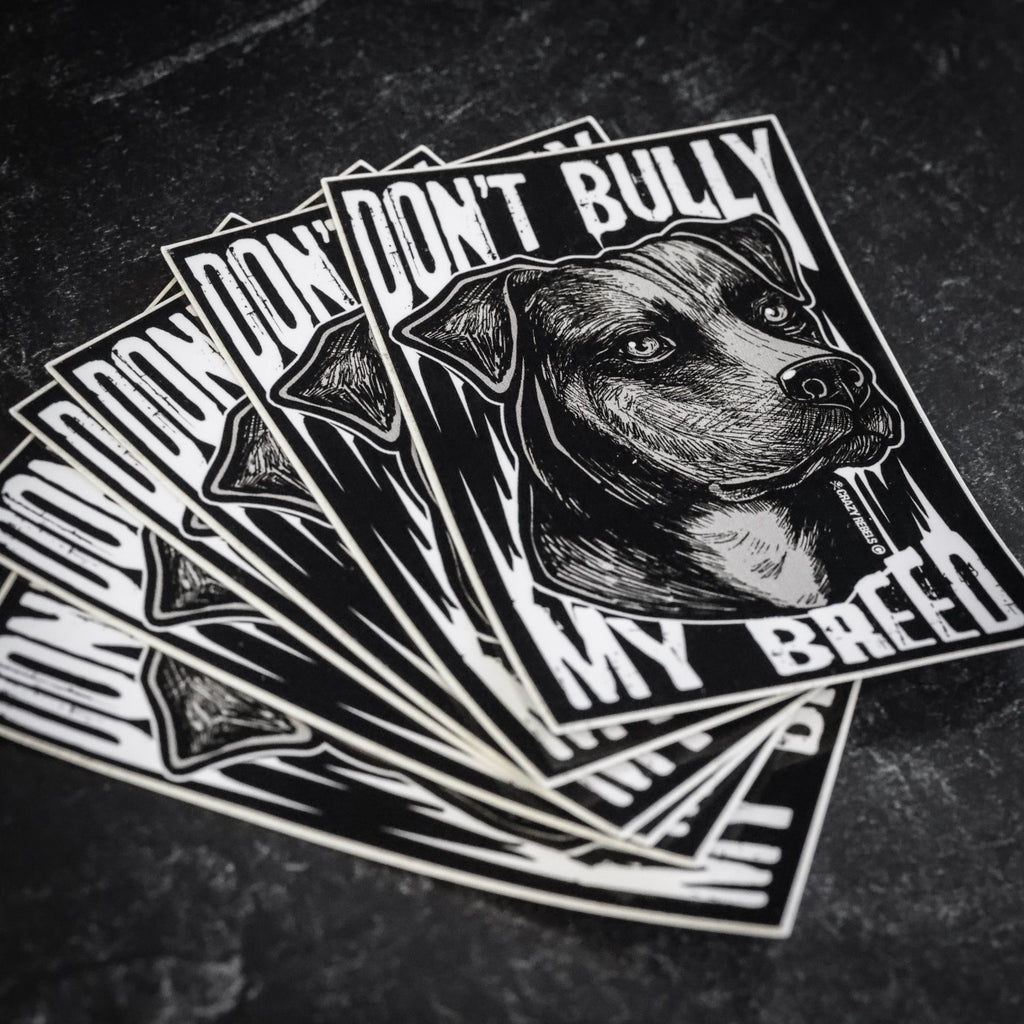 Over the past decade we've seen a lot of changes with bully bans all over the world. We have always advocated to end BSL (breed specific legislation) and now in light of the UK's most recent legislation we're raising our voices to help educate once again. It doesn't matter where on earth these bans take place, even if they don't directly affect your household, they affect the dog community in general and it needs to end. For those that own these breeds (our selves included) it is so frustrating to have a well behaved peaceful dog deemed dangerous simply because of their pedigree and not at all related to their actions.
Dog breed does not correlate with behavior, how a dog is raised and trained determines the dogs demeanor. Irresponsible pet ownership is to blame, not the breed.
What is BSL? 

BSL stands for breed-specific legislation which are laws that regulate, and in some cases ban, dog breeds which are believed to be dangerous such as pit bulls and other bully breeds. Dobermans and Rottweilers are also often on these lists. This type of legislation is often enforced by animal control officers by simply visually identifying a dog's breed which is not accurate or reliable. 

What is the new ban in the UK?

Beginning December 31, 2023 XL bully breeds will be added to the list of banned "dangerous dogs" making it illegal to breed, sell, give away or abandon a banned type of dog. If you own a currently banned breed type, and don't have a certificate of exemption to keep them, the police can seize the dog and keep them, even if they're not acting dangerously and no complaint has been made.
Beginning February 1,  2024 it will be a criminal offense to own an XL Bully in England and Wales unless you have a Certificate of Exemption for your dog. You will need to adhere to strict rules such as microchipping your dog and keeping it on a lead and muzzled when in public. You will also need to neuter your dog and obtain third party insurance.

The craziest part about this ban is how generic and objective it is. XL bullies are crossbreeds and Kennel Club breed standards do not exist. Therefor there are currently no exact specifications for this type of dog.  So the government created its own specifications for the breed, which includes the size of their head and muzzle, their build and the length of their body. Breed name, genetics and parentage are not considered.

This ultimately means that it will be illegal for current rescue organizations to  re-home any XL bully breeds. They will have to be euthanized unless they can be relocated out of the affected countries.

What can you do?

Here are some things you can do to help stop the spread of breed-specific legislation:
Educate yourself. Understand the topic at hand and breeds affected by BSL so that in turn you can help educate others.
Educate others. Talk about BSL, bring the issue too light to help spread awareness of the issue.
Teach children dog safety. It's so so important to teach your little ones from infancy how to treat and interact with dogs. Teaching children respect for dogs decreases the chance of a dog bite which in turn helps the epidemic of dogs being blamed for their actions simply because of their breed and not due to the situation that caused the bite.
Responsible dog ownership. Train and socialize your own dogs to help exemplify well behaved dogs no matter the breed, but especially if you own a deemed "dangerous breed".
Join an anti-BSL group or support a bully rescue doing work to help fight BSL.
Adopt a bully breed. Due to stigmas surrounding bullies, there are often many to choose from at any given local shelter.
We designed the Don't Bully My Breed artwork to help educate and have found it often sparks a conversation which is exactly what educating and getting the word out is all about. 
Sources: naic.org, bluecross.org.uk, stopbsl.org