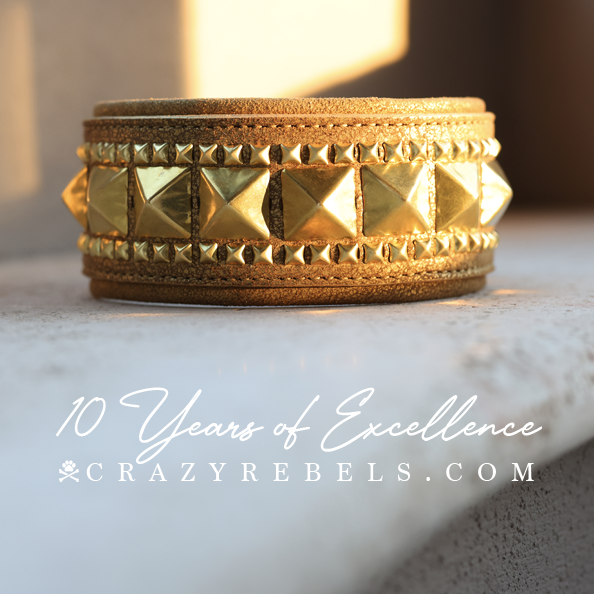 It's our birthday! Well, sort of. It's actually our birthyear! 2022 marks 10 years since we launched CrazyRebels.com and while the actual day of the launch isn't until November, we're getting this party started early and celebrating all year long! When we first began all those years ago, we truly never could have imagined where we would be today. We are so very grateful for each and every person and dog we have met along the way. 
It turned out when we started this new venture we were not only building a company, we were actually creating a family. And wow do we love this family. A truly caring community of like minded, dog loving people. We are so glad you're here.
This might be our tenth anniversary of offering you the raddest dog gear online, but we are gifting YOU all year long. We've done a myriad of giveaways throughout our time online, but this is going to be our most extensive string of giveaways yet! To celebrate 10, we have over $10,000 worth of giveaways planned for you over the next 12 months. Including a multitude of Crazy Rebels collars and gear, and a far reaching array of our favorite brands of dog must haves and everyday luxuries. Beginning today with the Decade Diesel. All giveaways will be hosted on Facebook or Instagram, so be sure to find us on both platforms.
The Diesel Collar
The Diesel collar was our very first collar design, so it's only fitting it should be our first of this year's mega giveaways too. It was inspired by our then, tiny Dober boy Diesel. He has since passed away but his memory lives on in every single Diesel collar we get to make. You see, when you select a collar you are not just getting the aesthetic design of that collar, you are also receiving a story, a little piece of our hearts in whatever form that may take. Each collar we come up with has a story from conception of design to selecting the perfect name. Over the next 12 months we'll share more behind the collar stories and tid bits of how collars came to be. 
For the Decade Diesel we wanted a very special leather to honor the namesake dog and the collar. We selected a rare hide of super soft, gold distress Italian lambskin imported from Italy. This leather is both new and old. The vintage distress finish gives it the look of a well loved collar, which it is, and the solid brass hardware and matching padding completes its regal finish. If you want to add one of these commemorative collector's edition Golden Decade Diesels to your collar wardrobe, we are offering a very limited number for custom order.
And if you just want to win one, you can enter to do so here.
To those of you who are new to CR, welcome, we can't wait to get to know you. And to those of you have been with us since the start, you hold a very special place in our hearts. Thank you for helping us grow, learn, create  and connect. We couldn't have done it without you.