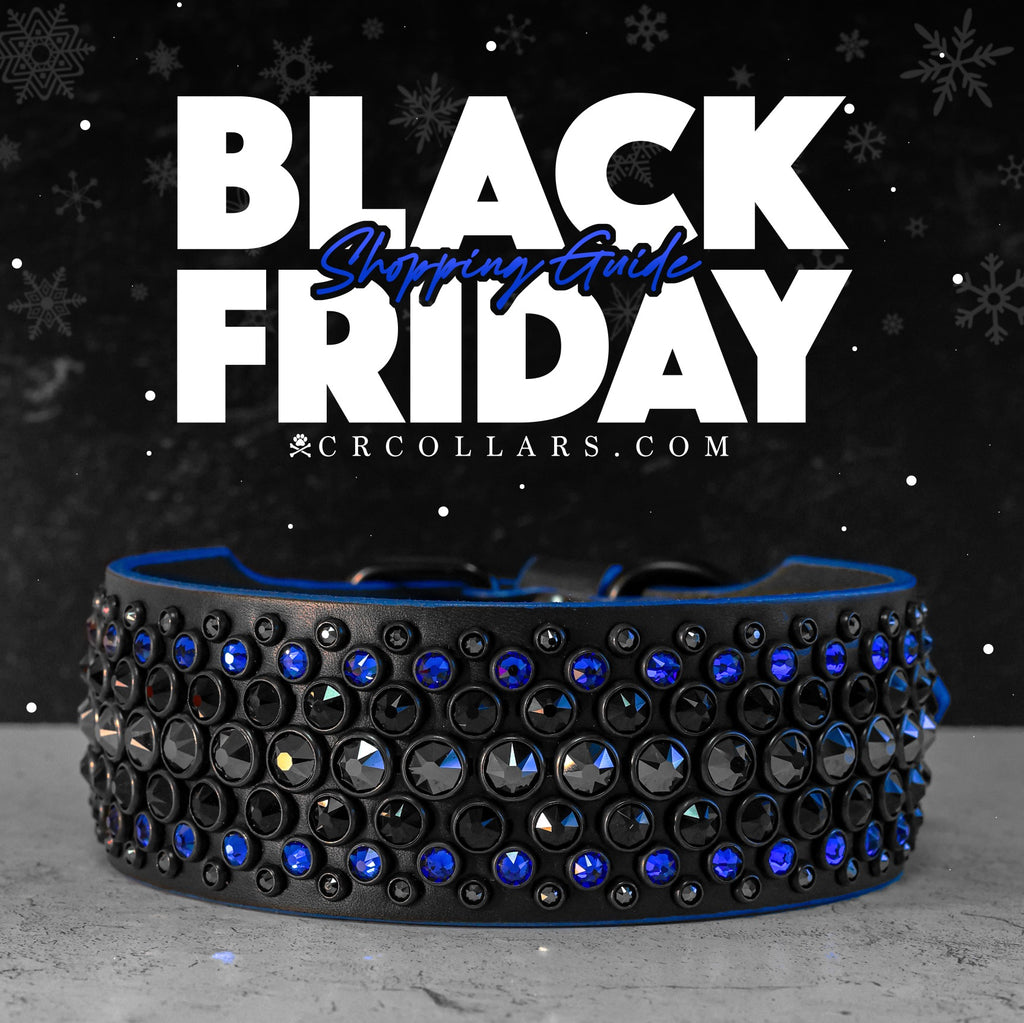 Holiday shopping has begun, and we are here to make it as easy as possible, so we've put together an insiders guide for how to navigate Crazy Rebels this holiday shopping season.
Black Friday, 11.26.21 – Black Friday is our biggest and most inclusive sale of the year. Every square inch of our website will be on SALE from 12:00 am Friday 11.26.21 until 11:59 pm pst. Up to 50% off. You do not need any discount codes to shop, everything will already be on sale for you so all you have to do is it add to cart and savings are automatic.
Gift Cards are not on sale but will offer a promo. For every $100 gift card purchased, you'll get $20 to spend later. $20 gift cards will arrive via email.

Ready Made SALE starts at 9 am pst on Friday, 11.26.21 – Our Black Friday Ready Made Collection will feature a medley of collars in a wide range of sizes and designs. Including leather and Kyon, holiday themed, specialty, and everyday styles. And they'll all be on sale.

Bandana-rama – We've been working super hard to restock our bandana collection with tons and tons of old and new styles. Bandanas will be 50% off and are al a carte. So you can purchase with or without the nylon collar. This is the time to stock up on every style you've ever wanted.
Small Business Saturday, 11.27.21 – SBS will feature a *site wide discount code: SBS2021. As well as a special themed Ready Made Collection at 12 pm pst and a limited release item. *Excludes ready made collection.
Cyber Monday, 11.29.21 – Cyber Monday will feature more limited release collars, free shipping in the US on all orders over $150 with code CYBERSHIP, and one more themed Ready Made Collection at 9 am pst to finish off the weekend.
 Throughout December we'll also offer Limited Release collars and mini Ready Made Collections so you can continue to stock up on gifts for the dogs and dog lovers in your life. Each sale, collection and limited release is only offered once for a limited time so if you see something you like we recommend grabbing it right away as it may not be offered or available again.
If you have any questions we are always here to help. The best way to reach us is via email at woof@crazyrebels.com. We are generally able to reply within 24 hours, sometimes sooner.
We are so thankful for your love and support all year round. And especially thankful for your patience around the holidays. Have a wonderful holiday season furiends!