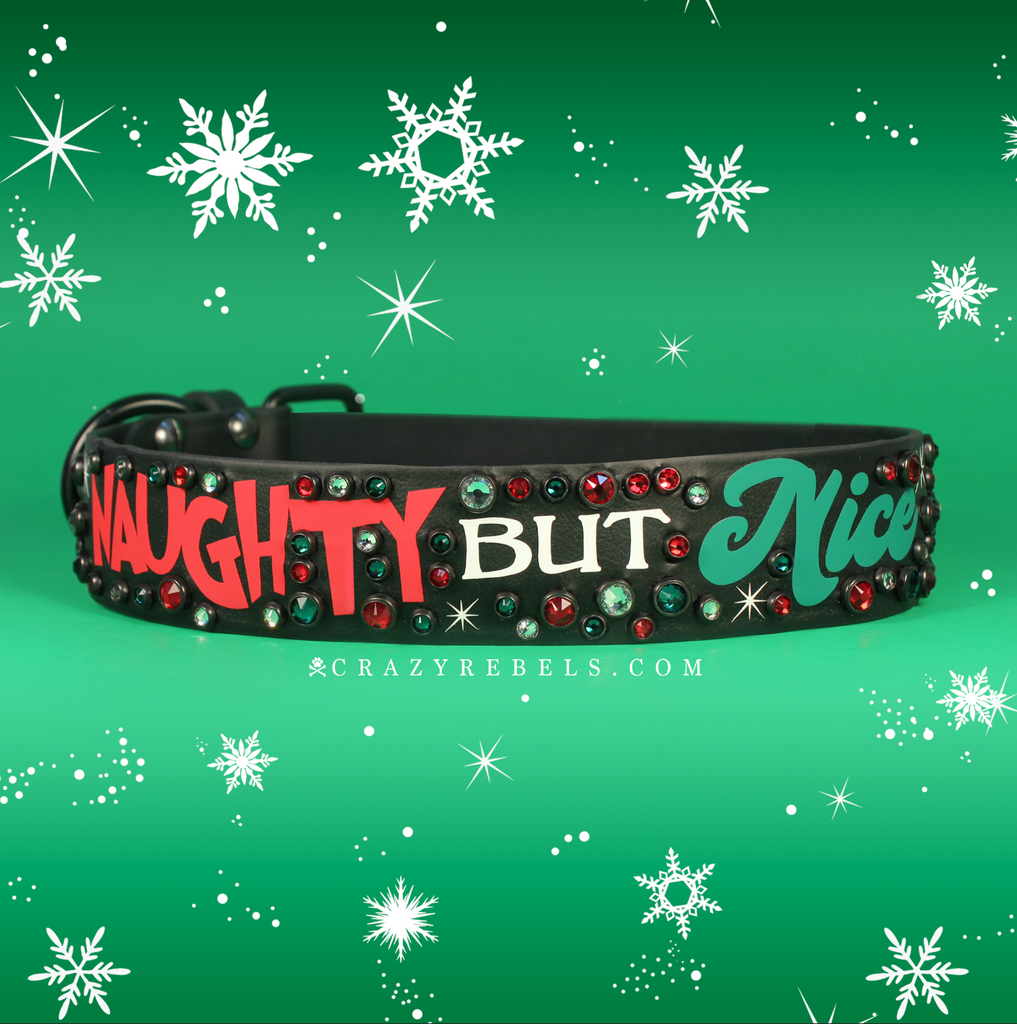 Every year we change things up a little bit to best accommodate your collar needs. We want you to feel super prepared for the holidays so we've put together a Black Friday through Cyber Monday guide, along with an update on Crazy Rebels. If you read through and still have any questions please don't hesitate to ask. We are here for you, literally 24/7, this time of year. We work 19 hour days to make sure we get you what you need, and we wouldn't have it any other way. We so love making collars for you. 
Here's what you can expect this holiday weekend and season:
Black Friday
Black Friday is always our most expansive sale of the year, and our biggest sale of the holiday weekend, meaning everything online is on sale (absolutely everything) and at the highest discount of the weekend.  The site will go live at midnight on Black Friday, 11/29/19, no code will be needed, everything will be on sale. Our Black Friday Ready Made Sale will launch at 8 am PST. This Ready Made collection will include a wide array of sizes, styles, leather and waterproof Kyon. Yes, there will be Christmas themed collars. Yes, there will be so many styles to choose from. Like all of our Ready Made Sales, there will only be one of each collar in the collection available and it will be first come, first serve. Ready Made Sales throughout this season will be the only option to score leather collars, which is awesome for two reasons. 1.) Ready Made collars are sold at discounted prices and 2.) they are ready to ship, so every Ready Made collar will arrive in time for Christmas. Woo hoo! 
Small Business Saturday
We're rocking out ANOTHER Ready Made Sale at 12 noon PST. This Ready Made Sale will debut a brand new leather color (OMG, we can't wait for you to see it). There will also be a site wide sale, with code THANKYOU2019.
Cyber Monday
A third Ready Made sale in one week? Yes, you heard that right. Featuring the second half of our limited edition Whiteout Collection beginning at 8 am PST. And we'll have free shipping worldwide on any order over $250. 
What's up with the Waitlist?
Update on our waitlist: What is a waitlist? How does it work? Our waitlist is technically getting in a virtual line to order leather collars. Because we are a teeny, tiny company hand making every. single. collar. our production does take some time. For this reason at this time we do not offer leather collars for order on our website, but instead by waitlist. Simply email us at woof@crazyrebels.com to get in line. Once it's your turn, we'll email you and get you all set up with your custom order. 
How long does the waitlist take? This can be very difficult to accurately guesstimate as we do no limit how many collars you can order once your turn comes up. So you can order one, or twenty. The more collars each person orders, the slower the virtual line moves. We really cannot anticipate what each customer will do once their turn comes up. Our best guess at the moment is a year long waitlist. You are welcome to inquire about your placement at any time.
We will most likely close down custom Kyon collar orders for the month of December after Cyber Monday. For the month of December we will be hibernating, making a zillion collars. We are always here to help, feel free to email us at woof@crazyrebels.com, give us a call at 888-530-1025, or message us on Facebook or Instagram. We do our super best to get back to all inquiries across all platforms as quickly as possible. For the most reliable communication, we recommend email.
We're here to help all weekend, and all season long. Don't hesitate to reach out, we love to hear from you.
Happy Holidays friends!