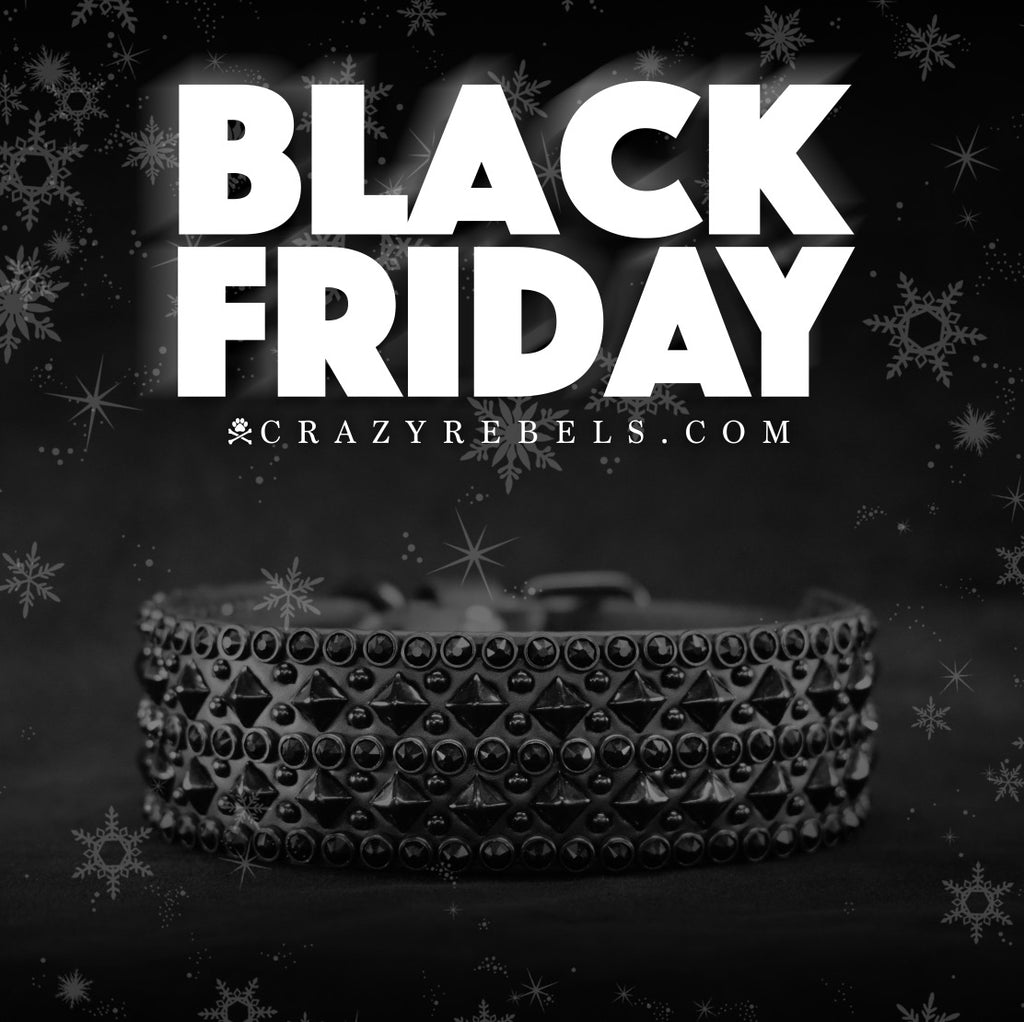 It's that time of year! The mad dash to order all the perfect gifts and get them wrapped in time for the the holidays is upon us. We put together this helpful guide to help make your Crazy Rebels shopping experience as quick and easy as possible, so you can get back to what's really important, like petting your dog, cuddling your dog, treating you dog, and paying all the attention to your dog.
Black Friday
Black Friday is always our biggest and most inclusive sale of the year so you definitely don't want to miss it. Absolutely everything is on sale, which almost never happens. And the best part about this year, is that everything ordered through our website at CrazyRebels.com ships in two weeks or less. So anything ordered on Black Friday will arrive by December 24th.
What's on sale? It's all on sale! Literally every single thing on our website (except for gift certificates) will be on sale. You won't need a discount code, just shop starting at 12 am PST on Friday, 11.27.20 and save!
How can I order a collar? There are currently three ways to order collars.
On our website: Our collection of Kyon basics is available to order any time through our website. You can customize colors and hardware and these collars and leashes all ship in two weeks or less.
Ready Made Collections: We will offer three Ready Made Collections, with Black Friday being our biggest sale. Ready Made Collections offer decked out collars that are ready to ship. There is one of each available so we recommend shopping right at the sale start time for the best selection. These collections will include collars ranging in size from 9" - 11" up to 24"- 26" and will feature both leather and Kyon options in Christmas color schemes, every day colors, and more. These will all ship in time for Christmas.
Black Friday, 11.27.20, 9 am PST
Small Business Saturday, 11.28.20, 12 noon PST
Cyber Monday, 11.30.20, 9 am PST
Custom order: If you want a super custom collar we offer a waitlist system. To join the waitlist just shoot us an email at

woof@crazyrebels.com

and we'll get you all set up. The waitlist is about 12 months out at the moment. We are working hard to get this time frame down and thank you so much for your patience.
Small Business Saturday
We are always beyond thankful for your love and support of our tiny but mighty company. Crazy Rebels is a labor of love, we love making dog gear for you! Shop our Ready Made Collection starting at 12 noon PST on Saturday, 11.28.20. And enjoy 15% off site wide with code THANKYOU2020 (excludes Ready Made Collection and gift certificates).
Cyber Monday
The third and final Ready Made Collection will go live at 9 am PST on Monday, 11.30.20. Plus, enjoy free shipping worldwide on any order over $150, no code needed.
Some notes on shipping and deadlines:
For International orders the suggested cutoff  to place an order for Christmas delivery is Cyber Monday, November 30th. For US orders the suggested cutoff to place an order is Friday, December 4th. We will continue making and shipping orders placed after that as fast as we can, but those are our suggested cutoff dates for stress free delivery.
With that being said, 99% percent of the time we have 100% faith in the USPS, this year things have been a little unpredictable due to COVID so we have some notes about shipping to ensure on time delivery worldwide.
All US orders placed by Friday, December 4th will ship in time to arrive by December 24th, Christmas Eve. If you are traveling or need your order sooner than that, please let us know when you order. 
For International orders, we use the United States Postal Service. If you would like to upgrade to DHL or FedEx please let us know as soon as you have placed your order and we will send you an upgrade option.
Thank you so (so, so, so, so) much for choosing Crazy Rebels for your holiday needs. We love serving you! We are always here to answer questions you may have, please feel free to email us throughout the holiday weekend with any inquiries. Happy Holidays friends!