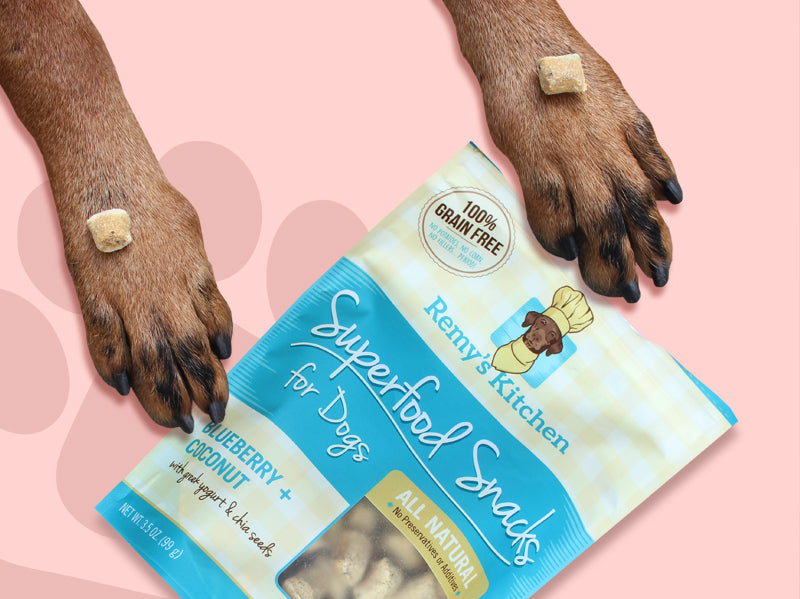 The rebel pack is 100% raw fed so when it comes to treats, it's pretty much homemade or nothing...until now. Remy's K9 Kitchen is the answer to every dog prayer. Their exclusive line of treats focuses on wholesome, minimal ingredients, all locally sourced and processed right in the USA so you know your dog is getting the very best.
Whether your dog is raw fed or not, commercial treats are laden with fillers, preservatives, dyes, grains and even sodium. Eck. Natural freeze dried treats, however, are the absolute best product on the market for your dog. Freeze drying the ingredients preserving the majority of the nutrition.
We sat down with the owner and dog mom, Lisa McMillan, of Remy'S K9 Kitchen to get some inside info and offer you an incredible giveaway.
What inspired Remy's Kitchen?
When we adopted Remy, we knew we wanted the best possible nutrition for him. After discovering he had sensitivities to certain ingredients in his food, I started preparing his meals for him. Through trial and error we learned what those sensitivities were. That path led us to starting this company. We wanted to create a line of food and treats with clean, healthy ingredients and no fillers. Food that your pup loves and you feel good about feeding to them.
How did you decide on the featured recipes?
Our Superfood Snack line came about because Remy loved another freeze dried treat that wasn't meat based, but the first ingredient was potato. I thought we can definitely do better than that. Why put a filler in it? Why not have pure nutrition in every bite? Right now, we offer a Blueberry Coconut treat with Greek yogurt, Blueberries, Garbanzo Beans, Kale, Chia seed, Flax meal, and Coconut Oil. Coming soon is a Pumpkin Kale version of that. Freeze dried in their natural state, preserving 98% of their nutrients. Our Just line is just that - meat and organs , freeze dried in their raw natural state. Single sourced protein. No guessing on what else may be in that bag of treats. 
Where do you source your ingredients from?
Our meats are all pasture raised locally to our facility in southern Wisconsin. The ingredients for our Superfood Snacks are also sourced locally and in the surrounding Midwest.
Where are your treats manufactured and packaged?
Our treats are made and packaged in a USDA inspected, state of the art facility in Wisconsin. We work closely with a Holistic Veterinarian who helps us perfect our recipes for our Superfood Snacks and our line of complete meals, which are still in development. She is actively involved in overseeing our production and quality control.

Why should dog owners choose these treats over others?
We are dog owners too! Not some big company tying to convince you through marketing what your dog needs. We truly care, and only want only the best for your pups and ours! Presently, we offer the only Freeze Dried Superfood dog treats that do not contain ANY fillers - no potatoes, grain, or filler of any kind.
What are the benefits of your treats?
Our focus is clean, healthy, biologically appropriate raw food with a single sourced protein for each recipe. Great for dogs with allergies or sensitivities. You know exactly what you are getting in each bag. Our Superfood Snacks offer pure, clean superfoods for your dog in every bite. We are so excited for your pups to try them! Remy and his friends do all the taste testing, so you know you are getting pup approval on everything you try from us!
You can find Remy's K9 Kitchen treats exclusively online on their website, Instagram and Facebook. 
To enter to win a years supply of Remy's all natural treats, check out our Instagram right here.